10 Affordable and Creative Solutions to Declutter Your Books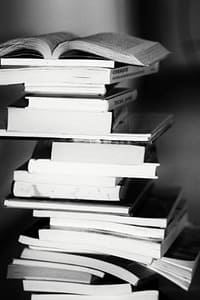 Decluttering your books, especially in any sort of creative way, is a bit of a unique task among decluttering tasks. Anyone with many (too many? We sympathize!) books will know: you need to store your books, but you also want to see your books! You want everyone else to see your books. Books are, themselves, desirable decorations. This is especially true with the 21st century move to digital books; you don't need physical books, you want them. They're beautiful in their own way.
If you're reading this article then you probably want to store your books in a way that doesn't involve boring rectangular bookshelves. As someone with quite a few boring Billy Bookshelves, I understand the ennui with monolithic, horizontal and vertical lined designs. What we'll look at here are more creative, interesting, even beautiful solutions for your books.
It's worth pointing out, before we dig into the list, that these aren't necessarily the most practical solutions, especially if you have hundreds of books to deal with. The bookshelf-monolith may be the only option in such cases. However, even then, it's nice to bring out some of your favorites for the special treatment that they deserve.
Let's get to the list! Below are our favorite creative, affordable ways to store—and display—your books. Since going to stores can be a challenge for furniture, we're only going to consider solutions on Amazon so that they provide free shipping. We're going to suggest 8 very affordable solutions, and 2 that are somewhat more but that we think are worth considering.
Please note that we may receive a commission for purchases made through links on this site.
8 Very Affordable Solutions
For Decluttering Your Books ($30-$150)
The 8 pieces of furniture that we're looking at first range in price from, at the time we're writing, about $50 to about $125. As shelving prices go, this is very much at the affordable end of things. There is often value in the quality and design superiority of expensive furniture, but such items can range in the thousands–that is simply not feasible for most of us! The shelving in this section are simply great solutions for the budget conscious, as well as those of us who like to walk into a more interesting room.
The following are not in order of preference, except for maybe the unit at the very bottom which we think is a great bang for your buck.
Greenco 5 Tier Wall Mount Corner Shelves
This is the most affordable of the solutions we're looking at. It's smaller, but we like it because it mounts in a corner of your room. Not only will it not be in the way, like many other larger solutions, it will make good use of what is often otherwise-wasted space.
The number of sales and reviews of this unit are pretty astounding–more than 15,000 at the time we're writing.
You won't be able to store many books on here, and no very large ones, but at such an affordable price it is worth considering regardless! With several of these, you can declutter in several different rooms. We also had to include this item on our list of 10 Very Affordable Solutions to Declutter Your Stuff.
BATHWA 9-Shelf Tree Bookcase
There are quite a few variations of this design available, but this one is well-reviewed and comes with more shelf space than most others that use a similar design.
We like this design because its angled shelves really draw the eye to their contents. When everything else in the room is horizontal or vertical, this really sticks out (in a good way). If you are wanting to make a real show of your books while you declutter, wanting to make sure others are noticing them, this is an excellent solution.
You won't be able to store dozens and dozens of book on this unit, but that isn't what it's trying to do; this is designed to show off just a few of your favorites. At about 55″ high this unit isn't incredibly tall, but that means that it could fit nicely in a wide variety of locations in the room.
SUPER DEAL 4 Tier A Frame Bookshelf
Breaking up the typically horizontal and vertical lines with angles that aren't 90 degrees is a really easy way to raise the level of interest in a piece of furniture—and of the things on the furniture.
This piece is reasonably priced, has good reviews, and is a great way to showcase some of your favorite books while you declutter!
One reviewer had some trouble assembling the shelving, but the rest of the reviews specifically note that it is easy to put together—it isn't something that should be a concern as long as you have experience putting together flat-packed furniture. Another concern some people have is with the sturdiness. For books you will have no problem; just don't plan on putting your bags of metal on these shelves!
Note that "SUPER DEAL" is the actual brand name of this unit, not us telling you about a deal!
SEI Furniture Metal Spine Book Tower
This is the only metallic decluttering piece that we've included in this list. We've linked to a black powder-coated model, but it can also be found in silver. (The silver model was sold out at the time we wrote this, as this design is quite popular.)
Very much more on the "industrial look" side of things when empty, this shelving likely needs other similarly industrial looking furniture in the room to not stand out in a bad way if you don't plan to fill it up. When full of books, however, what will be visible are the books.
The shelf is designed in such a way that the shelf itself will be mostly hidden when filled by books. We like that it's all about the books! You can even leave out individual ledges to enable you to store some books vertically if you want to achieve an extra interesting look.
Giantex 7-Tier Multipurpose Storage Shelf
As with other items in this list, though to a lesser degree, this piece breaks up the usual horizontal and vertical lines of a room by providing a slightly pyramidal shape. As in the image of the shelf, the effect can be made more pronounced by having your books be sometimes laid horizontally, sometimes vertically, and sometimes on an angle. Though a simpler, more expected piece of furniture to help declutter, it can be really effective with the right books on it!
There seem to be some concerns about the sturdiness of the unit, so while books will be fine, don't plan to store your weights on these shelves. Still, it's a unique look that we think would look great in the right room.
IRIS USA, Inc. 5 Tier Revolving Bookshelf
Rotating book shelves! Consider: how much of your furniture moves? Very little, we suspect. But how come? Why is it that nearly all furniture is static? This piece not only looks quite unique in the shelving space, but provides a focus and talking point simply because it rotates. At about 55″ high won't be the tallest item in your room, but that isn't necessarily a bad thing.
The unit seems to be quite sturdy, so there's no reason that you can't display and declutter something on the top as well as on the shelves, a pretty plant for example. The unit comes in a darker wood color as well, though we think that the lighter finish looks a bit cleaner.
5 Tier Multishelf Storage Organizer Bookcase and Display Rack
The name of this unit is not exciting. We realize that. But with a bit of a 70s wood-panel vibe, as well as a unique-looking series of stepping shelves, this piece is really intriguing. Notice the partial shelves in the middle—this is the sort of smaller detail that can set an otherwise-mundane piece of furniture, like a standard bookshelf, apart.
Some people seem to have trouble with constructing this–it seems to be the only thing people complain about–but if you have any experience with putting together shelves, you shouldn't have that issue. That issue aside, the look of this unit will be absolutely perfect for certain ranges of decor, and will help to declutter rooms that have the right look.
Giantex Freestanding Ladder Bookcase
This unit comes in black and white finishes in addition to the grey, distressed stone look of the one we've selected for display. We selected this design simply because it is likely to stand out a bit more (in a good way, we think!), and to help your books to stand out more.
This shelf does a great job drawing eyes to it in almost any room, since it such an unexpected collection of shapes. Four differently sized rectangles look like even more sizes with the partial back-paneling.
The shelving heights range from 9″ to 16″, which means–an important feature for those of us with big book collections–your very tall books will fit on the larger shelves! Your larger books need to be both decluttered and displayed too.
2 Larger, Slightly Less Affordable Solutions
For Decluttering Your Books ($260-$415)
For this section we've chosen two items that, while more expensive than those above, still meet the brief of being good value and having free shipping. The second item in this section, especially, is extremely well reviewed, large, and looks great. The largest item on the list, it'll help you declutter more than anything else yet mentioned.
Martin Furniture Woodford Solid Wood Bookcase
This is one of the two pricier items on this list. While it appears simple, it really isn't. It calls itself a "room divider"; we're not so sure about that, but it does have the style of a folding divider, and with careful placement of your books you could probably even achieve that look if that's what you wanted.
Regardless, we think it's a beautiful way to declutter, store, and display the favorite parts of your library. It has more shelving space than the other pieces we've highlighted, and its size is the main reason for its price.
The other reason for the price is the real differentiator from the shelves above: this one is solid wood. It's simply unavoidable that with more affordable furniture, while they can still be very high quality, you are unlikely to get solid wood.
Tribesigns Triple Wide 5-Shelf Bookcase
This is the other pricey item in this list. But for that price you get a lot of shelf space, as well as a ton of great reviews. The brilliant difference of this shelving is actually combining two shelves with linking shelves between them in a simple but beautiful way.
If you prefer two smaller shelves–a bit more boring, but possibly better for your home situation–the center shelves can simply be removed. If you're a frequent mover, another important fact is that it can be easily disassembled for the move.
This is our pick to declutter your books with something that doesn't look like a typical big rectangle.
We've suggested 10 affordable, more creative options to help declutter your books. We've restricted ourselves to having free shipping, since even when it's easy to get to stores in person, it isn't always easy to get large furniture back from those stores.
We looked for designs that strayed from the usual put-books-in-box look, and tried to find pieces that either have angled lines or unexpectedly placed rectangles. We really hope that you've found something that appeals to you, or at least inspires you with some redesign ideas for your library.
As an Amazon Associate I earn from qualifying purchases.