10 Very Affordable Solutions to Declutter Your Stuff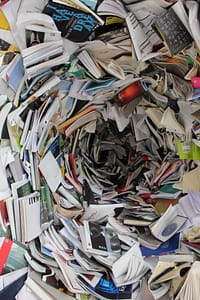 To declutter now is a greater task than it ever was before. 2020 has left many of us spending a great deal more time at home than before, even after things have normalized. With that time at home has come more clutter and mess than ever before! As a result, finding affordable, quality storage solutions has become a priority. We want to help you find some.
This article will focus on a variety of storage solutions for a variety of storage problems; we have looked for versatility along with affordability. Whether you need to declutter your or your child's bedroom, your living room, or kitchen, we think that the solutions suggested here will be helpful.
We've set ourselves a limit of $50 for the first 8 items; the final two are a bit more, but are under $150. Since going to a store is less convenient than it was in the past, we've also restricted ourselves to items with free shipping. We hope you can find something useful to you!
Please note that we may receive a commission for purchases made through links on this site.
8 Very Affordable Solutions
To Declutter Your Stuff ( Under $50)
The 8 storage solutions that we're looking at first range in price from, at the time we're writing, about $10 to about $50. They range from small bits of furniture to storage boxes and other things in between. While high priced storage furniture can sometimes have value in their design and quality, there's always something to be said for items are so affordable that you could have dozens of them for the price of a single expensive item! All that being said, we have done our best to find items that are good quality as well as very affordable.
The following are not in order of preference or price; prices tend to fluctuate slightly, and which items are best will depend entirely on your personal situation.
Greenco 5 Tier Wall Mount Corner Shelves
This item is also one of our picks in both our 10 Affordable and Creative Solutions to Declutter Your Books and 10 Affordable Solutions to Declutter Using Wasted Space. It's smaller, but we like it because it mounts in a corner of your room. Not only will it not be in the way, like many other larger solutions, it will make good use of what is often otherwise-wasted space.
The number of sales and reviews of this unit are pretty astounding–more than 15,000 at the time we're writing. You won't be able to declutter a huge number of things on here, and nothing very large, but at such an affordable price it is worth considering regardless! With several of these, you can declutter in several different rooms.
Onlyeasy Flexible Underbed Storage Bags (Pack of 2)
Many of us store things under our beds–it's a perfect space to use to declutter, and not as bad as literally sweeping things under a rug. Some of us do so deliberately, some of us…well, for some people you should never look at the mess under their beds!
Whichever sort of person you are, these "bags" are designed specifically to make use of that usually wasted space. With up to three adjustable compartments–you can easily move or remove the dividers–you can store a wide variety of items, and the handles make it easy to place and remove the bags under the bed.
You get two of them, and the pair should be enough to fill up the space under most beds. We also included this solution in our 10 Affordable Solutions to Declutter Using Wasted Space.
Shoes. We like shoes; we dislike trying to declutter shoes. They can't really go in drawers, they don't stack, and piling them up in a closet makes them difficult to find or access. A unit like this is a really excellent solution. Assign each family member a shelf or two, and keeping everyone's shoe piles at the door to a minimum will be a great deal easier!
Note that while it advertises "7 tier", we only count 6 shelves. We assume they're counting the top of the unit. Regardless, this has enough space to comfortably store 36 or more pairs of shoes–still a great value.
MAGINELS Portable Wardrobe Closets
Whether you need to declutter a bedroom, a rec room, a toy room, or a living room, this could be a really great solution. The "portability" advertised for this solution seems to us to be a bit irrelevant, as once it's full it likely won't be moved. But its flexibility in what it can store and how it stores things is pretty great! It is modular; you can set it up in many different configurations, shapes, and sizes.
The reviews on Amazon include pictures from people who have whole walls covered with these! There seem to be some concerns about the sturdiness, but the storage space relative to price still makes this a very affordable and useful piece.
Note that there are larger sizes of the unit that cost a bit more–they may be right for your situation too.
SINGAYE 4 Tier Slim Rolling Cart Kitchen Storage Organizer
Often a space for fallen crumbs and colonies of dust bunnies, the space beside your fridge is often wasted. This convenient little piece helps to make use of it.
Perfect for storing bottles and jars, spices, oils, and other items that it would be nice to have easily accessible, we think that this shelving should have a place in many homes. Its lower and upper shelves leave a lot of space for larger items, and the middle ones are large enough to accommodate most thing you'd find in a kitchen.
As with some other solutions on this list, we included this in our 10 Affordable Solutions to Declutter Using Wasted Space.
Songmics 43 Inches Folding Ottoman
A storage ottoman isn't very uncommon, evidenced by the massive number of positive reviews that this unit has, and that is for good reason. Furniture like this not only looks great in many different rooms–a living room in front of your couch, a toy room for your kids, in the bedroom at the end of your bed–it is extremely practical.
The ottoman is sturdy, holding up to 660 lbs, and has about 4.25 cubic feet, 120 liters, of storage. It also has removable dividers so that you can keep those toys decluttered! It's great to have some things that help to declutter while also looking nice, especially when they're affordable.
IRIS USA Stack & Pull Box, 31.75 Quart, 6 Pack
We have used this type of storage to declutter things in the shed. We have used them to declutter in the basement. We have used them in bedroom closets, and most helpfully, we've used them to move to multiple different states.
Hot tip: don't let movers put these on the bottom of big piles! They are really sturdy, but aren't designed to hold several hundred pounds of boxes of books. We found this out through experience; there was no damage to the contents of the box, but the box itself did suffer a bit.
We recognize that suggesting boxes to declutter is not very imaginative, but this sort of set of boxes is just so useful and affordable, we couldn't leave them off of a list like this. Note that there are a variety of sizes at a variety of prices for these boxes–which is best for you will, obviously, depend on your use-case.
2 Pack Magnetic Spice Rack
This unit comes in black, white, and "gray gold" finishes. We think it looks really good! Making use of your fridge door to declutter some spices and other small items is a wonderful use of that otherwise-wasted space.
If you have an extremely cramped kitchen then you might find yourself having to avoid bumping into these, but with some space, these guys are great.
Using them on the side of your laundry machines to hold detergent, fabric softeners, soaps, etc., is also a great idea. We think these are such a great example of a simple, practical, affordable solution to declutter a variety of rooms. We also absolutely had to include this solution in our 10 Affordable Solutions to Declutter Using Wasted Space.
2 Slightly Less Affordable Solutions
For Decluttering Your Stuff (Under $150)
For this section we've chosen two items that, while more expensive than those above, still meet the brief of being good value and having free shipping. The second item in this section, especially, is extremely well reviewed, large, and looks great. The largest item on the list, it'll help you declutter more than anything else yet mentioned.
Tsmine Over the Sink Adjustable Large Dish Rack
This item is brilliant. Extremely well-reviewed and unbelievably convenient, it has a good shot at being our favorite item of these 10. Drying dishes dry into your sink rather than wasting space beside it; there's a spot for your cutting board; there's a spot for your soap and scissors; and you can conveniently hang your ladles rather than having a flower vase on the counter to hold them. All in a space–the air above your sink–that would otherwise go unused! Brilliant. This is also our favorite solution in our 10 Affordable Solutions to Declutter Using Wasted Space.
Keter Eden 70 Gallon Storage Bench
This bench will fit in, and look good, with many patio or garden setups. It'll also hold a whole lot of the items that you often have out there, and have no other place to store! You aren't alone with having trouble with clutter on your deck, especially if you have children, or even pets that make use of the space. Toys, pillows, even things like umbrellas have no good place to go outside. We can envision many cottages, too, that would benefit from a piece like this.
We've suggested 10 very affordable solutions to declutter your stuff. We gave ourselves a max of $50 for the first 8 items, and $150 for the last two. $50 can seem limiting, but it's more than enough for many sorts of decluttering situations. We didn't focus on a single room or item like we do in some other articles; instead we've just tried to provide some really versatile options. We really hope that you have been able to find value in some of the suggestions!
As an Amazon Associate I earn from qualifying purchases.