10 Affordable Solutions to Declutter Using Wasted Space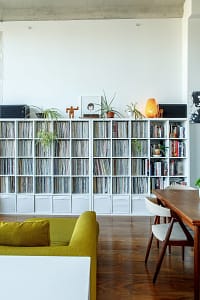 In researching declutter solutions for this article we have ended up truly amazed about just how much useful space in our homes goes unused. We may very well do a second article at some point, since it turns out that here we were only able to scratch the surface of this topic! As you'll see when you browse through the solutions below, there are a ton of easy, affordable, convenient ways to use otherwise-wasted space to help you declutter your home.
We haven't focused on any single room for this article. It turns out that every room has all sorts of wasted space that can be used to declutter! In fact, several of the items we'll highlight can be used in several different rooms.
For the first 8 solutions we're going to set ourselves a maximum budget of $50 for any given item; for the last two we're going to give ourselves a slightly larger $150 budget. We're also going to restrict the solutions to having free shipping. The solutions that we chose for this article actually have quite an overlap with those in our 10 Very Affordable Solutions to Declutter Your Stuff; we'll make a note of them when we hit them.
Please note that we may receive a commission for purchases made through links on this site.
8 Affordable Solutions to Declutter With Otherwise-Wasted Space (Under $50)
The following are not in order of preference or price; prices tend to fluctuate slightly, and which items are best will depend entirely on your personal situation. Rather than providing some arbitrary ranking, our goal here is simply to introduce you to solutions that could truly help with decluttering your home. As you look at them we suggest thinking about what spaces in your home these solutions, or others like them, could fit to help with your spaces.
Greenco 5 Tier Wall Mount Corner Shelves
This item is also one of our picks in both our 10 Affordable and Creative Solutions to Declutter Your Books and 10 Very Affordable Solutions to Declutter Your Stuff. It's smaller, but we like it because it mounts in a corner of your room. Not only will it not be in the way, like many other larger solutions, it will make good use of what is often otherwise-wasted space. The number of sales and reviews of this unit are pretty astounding–more than 15,000 at the time we're writing. You won't be able to declutter a huge number of things on here, and nothing very large, but at such an affordable price it is worth considering regardless! With several of these, you can declutter in several different rooms.
Onlyeasy Flexible Underbed Storage Bags (Pack of 2)
The space under the beds in most homes is either wasted or, frankly, a mess. Many of us do store things under there–it's a perfect space to use to declutter, and not as bad as literally sweeping things under a rug. But just shoving things under the bed is often incredibly inconvenient: the items are difficult to put under there, difficult to retrieve, and it's tough to see what's actually there. These "bags" are designed specifically to make use of that usually wasted space. With up to three adjustable compartments–you can easily move or remove the dividers–you can store a wide variety of items, and the handles make it easy to place and remove the bags under the bed. You get two of them, and the pair should be enough to fill up the space under most beds. This, too, was in our 10 Very Affordable Solutions to Declutter Your Stuff!
Note that if you combine these with the Spacesaver Premium Vacuum Storage Bags we discuss below, these will be even more efficient!
Simplehouseware Over Door Mount Pocket Organizer​
In case you haven't seen a declutter solution like this before, the way it works is that it uses thin hooks at the top to hang on any door while still allowing the door to close normally. This means that you can fit more in any closet, or fit things behind doors that you always leave open. In many homes that adds up to a whole lot of space!
We've come across many, many over-door organizers over the years, but this one really checks all of our requirement boxes in a way that others don't. It holds a great deal more than most like it. The pockets are very large, and can hold a substantial amount of weight. Others that are specifically for bathroom items, or specifically for shoes, are useless for any other task. This one could easily be used for almost any of those special cases, and more!
We also included this in our 10 Affordable Solutions to Declutter Your Kids' Toys.
SimpleHouseware Under Shelf Basket
We suspect that this 2-pack of under-shelf baskets will work best with your closet shelves, but we have both large cabinets and even a couple of book shelves that these are perfect for. They work by hooking onto a shelf and enabling you to make use of the space underneath it.
If you have kitchen cabinets with significant vertical space between shelves, this solution will truly benefit you: items in kitchen cabinets tend to be quite small (spices, jars, etc.), and with this you can double them up! It certainly isn't restricted to kitchen use, of course. Bedroom closets often have shelving over the hanger bar, and there might be more than enough room for these there. And we all need more room in our bedroom closets!
SINGAYE 4 Tier Slim Rolling Cart Kitchen Storage Organizer
This solution to using wasted space is simple, sort of obvious, and one we've needed for years. Often a space for fallen crumbs and colonies of dust bunnies, the space beside your fridge is often wasted. This convenient little piece helps to make use of it.
Perfect for storing bottles and jars, spices, oils, and other items that it would be nice to have easily accessible, we think that this shelving should have a place in many homes. Its lower and upper shelves leave a lot of space for larger items, and the middle ones are large enough to accommodate most thing you'd find in a kitchen. This solution is one that we included in our 10 Very Affordable Solutions to Declutter Your Stuff.
AOJEZOR Small Bathroom Storage Corner Floor Cabinet
How many bathrooms have you been in where you can't find the toilet paper? Or where it's just sitting unceremoniously on top of the toilet? Or worse, a bathroom with no place on the wall for a roll of toilet paper? No more! This solution is not unlike the previous one which uses space beside the fridge in that it uses a space beside something that many homes have and don't use.
We love this solution. It provides a place for dispensing your toilet paper, for storing it, and also for various cleaning items. The advantage this has of simply putting these items under the sink is that it is accessible while, frankly, sitting. And it looks great to boot!
Spacesaver Premium Vacuum Storage Bags
This one is a bit out of left field, as it isn't exactly using otherwise-unused space. But we think that it's perfect for the task of using wasted space because it lets you fit so much more into any given space. Suppose you decide to make use of the Underbed Storage Bags we mentioned above; you could fit a ton more in them, and under your bed, using these vacuum bags!
The way they work is that you put your soft items into a bag, and using the included hand pump you suck the air out of those bags. That compresses everything in the bag. We've used vacuum bags for storage, camping, and other traveling–they are incredibly useful! This one comes with 20 bags of varying sizes (5 x Small, 5 x Medium, 5 x Large, 5 x Jumbo). So while they don't directly use otherwise-unused space, they sure help to make use of the spaces you do use.
2 Pack Magnetic Spice Rack
This is the last of the 8 solutions under $50, and it's easily one of our favorites. It comes in black, white, and "gray gold" finishes. We think it looks really good! Making use of your fridge door to declutter some spices and other small items is a wonderful use of that otherwise-wasted space.
If you have an extremely cramped kitchen then you might find yourself having to avoid bumping into these, but with some space, these guys are great. Using them on the side of your laundry machines to hold detergent, fabric softeners, soaps, etc., is also a great idea. We think these are such a great example of a simple, practical, affordable solution to declutter a variety of rooms. This is also a solution that we included in our 10 Very Affordable Solutions to Declutter Your Stuff.
2 Slightly Less Affordable Solutions To Declutter With Otherwise-Wasted Space​ (Under $150)
For this section we've chosen two items that, while more expensive than those above, still meet the brief of being affordable and having free shipping. The over the sink rack is probably our favorite on this whole list!
Tsmine Over the Sink Adjustable Large Dish Rack
This item is brilliant. Extremely well-reviewed and unbelievably convenient, it has a good shot at being our favorite item of these 10. Drying dishes dry into your sink rather than wasting space beside it; there's a spot for your cutting board; there's a spot for your soap and scissors; and you can conveniently hang your ladles rather than having a flower vase on the counter to hold them. All in a space–the air above your sink–that would otherwise go unused! Brilliant. This is also a solution that we included in our 10 Very Affordable Solutions to Declutter Your Stuff. We couldn't possibly leave it out, it is so incredibly useful.
Spirich Home Bathroom Over-The-Toilet Shelf
This bench will fit in, and look good, with many patio or garden setups. It'll also hold a whole lot of the items that you often have out there, and have no other place to store! You aren't alone with having trouble with clutter on your deck, especially if you have children, or even pets that make use of the space. Toys, pillows, even things like umbrellas have no good place to go outside. We can envision many cottages, too, that would benefit from a piece like this.
We've suggested 10 very affordable solutions to declutter your stuff. We gave ourselves a max of $50 for the first 8 items, and $150 for the last two. $50 can seem limiting, but it's more than enough for many sorts of decluttering situations. We didn't focus on a single room or item like we do in some other articles; instead we've just tried to provide some really versatile options. We really hope that you have been able to find value in some of the suggestions!
As an Amazon Associate I earn from qualifying purchases.