10 Affordable Solutions to Declutter Your Kitchen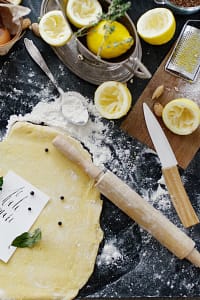 Kitchens provide a unique challenge for decluttering because they require easy accessibility and also a mess of things that need to be stored after each meal. Kitchens also need more specialized storage container solutions as they have to deal with both room temperature and cooled food–perishables can't simply be put in a cardboard box. Then we need to be able to declutter those containers! Oof!
What we're hoping to accomplish here is to provide a variety of affordable storage solutions to help with some common pain points in kitchens. For the first 8 solutions we're going to set ourselves a maximum budget of $50 for any given item; for the last two we're going to give ourselves a slightly larger $150 budget. We're also going to restrict the solutions to having free shipping.
If you're looking to start a decluttering project in your kitchen, then as you browse the suggestions in this article you should also take a look at our article on Effective Kitchen Decluttering in 6 Simple Steps. This article and that certainly complement each other well!
The solutions that we chose for this article have a bit of overlap with those in our 10 Very Affordable Solutions to Declutter Your Stuff and 10 Affordable Solutions to Declutter Using Wasted Space; we'll make a note of them when we hit them.
Please note that we may receive a commission for purchases made through links on this site.

8 Affordable Solutions to Declutter With Otherwise-Wasted Space (Under $50)
The following are not in order of preference or price; prices tend to fluctuate slightly, and which items are best will depend entirely on your personal situation. Rather than providing some arbitrary ranking, our goal here is simply to introduce you to solutions that could truly help with decluttering your kitchen. We also don't intend to have a specific theme for the items, other than that we think that the price-to-usefulness ratio in a kitchen is very good!
DrawerStore Kitchen Drawer Organizer Tray for Cutlery
This is a solution for the mess of utensils in your utensil drawer. If you check it out on Amazon, you'll be surprised at just how well-loved this thing is–it isn't just us! At the time of writing there are more than 26,000 reviews at very nearly 5 stars. That is pretty incredible! It's very affordable, fits in every kitchen, and really helps to solve the problem of the messy utensil drawer. We highly recommend checking this out.
SimpleHouseware Pan and Pot Lid Organizer Rack Holder
We used to try to find ways to pile our pans, even though they don't stack, and then to stuff them in some cupboard. We're betting that you have done the same thing at some point. It does not work. Every time you need to get one of the pans you can expect a cacophony of clangs, along with a challenge getting the specific pan you want.
This is a wonderful, affordable, simple solution! It can rest on a counter or in a large enough cupboard and can be upright or on its side. It makes getting a specific pan very easy and, our favorite part, no noise! This will go a long way to helping to declutter in whatever space you currently store your pans.
Rubbermaid Brilliance Pantry Organization & Food Storage Containers with Airtight Lids
Whether you are storing food in the pantry, fridge, or freezer, having high-quality airtight containers is important. They will increase the shelf-life of your food, keep out bugs (eww!), and good clear ones like this make retrieving what you want much easier. This food storage solution comes with 10 items including one 19.9-cup, one 16-cup, one 12-cup, one 8.1-cup, one 7.8-cup, one 6.6-cup, one 3.2-cup, one 1.3-cup, and two 0.5 cup mini containers. At the time of writing Amazon has nearly 5,000 reviews at five stars–these are well loved solutions to the food storage problem!
The reason we've included them in a list of decluttering items is that most of the containers we see in people's homes are not clear. Cheaper containers, made of cheap plastics, tend to be opaque, and make organizing your spaces much more challenging since you can't tell what is stored in each container. We find that clear containers like this provide benefits that you didn't even know you needed until you got them.
YouCopia StoraLid Food Container Lid Organizer
Following directly on the heels of the previous solution–airtight glass food containers–we know we're still going to have cheaper plastic storage containers, as they are versatile short-term storage solutions. Such containers are usually fairly easy to declutter, since they stack. Their lids, however…clutter nightmare! We are quite sure that many of you know the headaches these lids cause.
Even when the lids for particular contains stack reasonably well, they will never stack with lids from other containers. We have "spilled" container lids all over the place more times than we can remember. This affordable solution comes with 5 adjustable dividers and fits lids up to 9″ in diameter. It will fit in any cabinet or on any counter. We just love simple solutions like this.
SINGAYE 4 Tier Slim Rolling Cart Kitchen Storage Organizer
Often a space for fallen crumbs and colonies of dust bunnies, the space beside your fridge is often wasted. This convenient little piece helps to make use of it. Perfect for storing bottles and jars, spices, oils, and other items that it would be nice to have easily accessible, we think that this shelving should have a place in many homes. Its lower and upper shelves leave a lot of space for larger items, and the middle ones are large enough to accommodate most thing you'd find in a kitchen. This solution is one that we included in both our 10 Very Affordable Solutions to Declutter Your Stuff and our 10 Affordable Solutions to Declutter Using Wasted Space.
Expandable Under Sink Organizer and Storage
One of the spaces, in every home we've lived in, that has needed decluttering more than any other is the space below the kitchen sink. Cleaning supplies, cloths, soaps, rags, sprays, it is almost always a cluttered mess. And generally speaking you can't just install a shelf because the plumbing is in the way. Since everything is all bunched up, finding what you need is also difficult.
This solution is pretty great. It's adjustable both horizontally and vertically, and leaves space for plumbing. That means that it will comfortably fit under most sinks; while this isn't a bathroom article, it's worth pointing out that this will help a lot there too!
mDesign Metal Over Cabinet Kitchen Bag Storage
Plastic bags have become a pretty big issue all around the world. There are concerns about how to dispose of them in an environmentally conscious way, along with worries about their production which uses oil/petroleum. Since they are still ever-present, however you might feel about them, having a simple, affordable, useful solution for handling them at home is a very good thing.
We used to have a particular drawer that was a drawer for our bag of bags. Do you have a bag of bags too? It's not a great solution. At 15″ high this bag storage container can store a lot of plastic bags once they're squished down, and it makes retrieving them really easy through the outlet on the lower part. This solution is sort of a lifesaver, especially if you're particular concerned with the impact that plastic bags can have if you just throw them out.
2 Pack Magnetic Spice Rack
This is the last of the 8 solutions under $50, and it's easily one of our favorites. It comes in black, white, and "gray gold" finishes. We think it looks really good! Making use of your fridge door to declutter some spices and other small items is a wonderful use of that otherwise-wasted space.
If you have an extremely cramped kitchen then you might find yourself having to avoid bumping into these, but with some space, these guys are great. While we're focusing on the kitchen here, it's worth pointing out that using them on the side of your laundry machines to hold detergent, fabric softeners, soaps, etc., is also a great idea. 
We think these are such a great example of a simple, practical, affordable solution to declutter a variety of rooms. This solution is also one that we included in both our 10 Very Affordable Solutions to Declutter Your Stuff and our 10 Affordable Solutions to Declutter Using Wasted Space.
2 Slightly Less Affordable Solutions To Declutter With Otherwise-Wasted Space​ (Under $150)
For this section we've chosen two items that, while more expensive than those above, still meet the brief of being affordable and having free shipping. The over the sink rack is probably our favorite on this whole list!
Tsmine Over the Sink Adjustable Large Dish Rack
This item is brilliant. Extremely well-reviewed and unbelievably convenient, it has a good shot at being our favorite item of these 10. Drying dishes dry into your sink rather than wasting space beside it; there's a spot for your cutting board; there's a spot for your soap and scissors; and you can conveniently hang your ladles rather than having a flower vase on the counter to hold them. All in a space–the air above your sink–that would otherwise go unused! Brilliant.
This is the last solution that overlaps both our 10 Very Affordable Solutions to Declutter Your Stuff and our 10 Affordable Solutions to Declutter Using Wasted Space. It is simply so incredibly useful that it's hard to justify leaving it out of a list like this.
Mecor Kitchen Utility Island Cart With Wood Top
If you have a lot of space in your kitchen, having an island is so incredibly useful for helping to declutter your kitchen. It adds counter-space, drawers, cupboards, and other useful storage options in space that was otherwise totally unused.
The down side of islands is that they are pricey. We've selected this one for this article because it has a lot of storage options, is in our price range with free shipping, and has locking wheels. This island has a bit of a focus on storing wine bottles and glasses, and if you don't drink wine then this might not be the best option. But if you do drink wine or other drinks with similarly sized bottles, having a dedicated space for them is extremely convenient. Even better, a space to hang your wine glasses is not only convenient but will help with the hard-to-avoid water spots and streaks after cleaning!
In case you're curious about pricier islands–we won't feature them here because we said we'd stay under $150–if we had given ourselves more of a budget we would have selected the Home Styles Liberty Kitchen Cart with Wood Top, the Americana Black Kitchen Island, or even the Monarch Black/Distressed Oak Kitchen Island with Granite Top.
We've suggested 10 affordable solutions to declutter your kitchen. We gave ourselves a max of $50 for the first 8 items, and $150 for the last two. $50 actually goes a long way in the kitchen. We've tried to provide solutions with some versatility. We really hope that you have been able to find value in some of the suggestions!
As an Amazon Associate I earn from qualifying purchases.