10 Affordable Solutions to Declutter Your Kids' Toys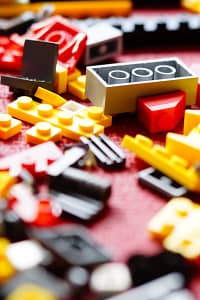 The quintessential example of a space that needs a declutter is a children's toy room. From dolls and action figures to playing cards and collectible card games, to the bane of every bare foot: the Lego piece. Cleaning these areas is a figurative and literal sore point.
In this article, we're going to focus on declutter storage solutions for toys and other children's things. These don't necessarily have to be in a dedicated "toy room"–we don't have the luxury of a dedicated room for toys, and we expect many of you don't either. So our goal is to focus on play-things rather than a specific room.
For the first 8 solutions we're going to set ourselves a maximum budget of $50 for any given item; for the last two we're going to give ourselves a slightly larger $150 budget. We're also going to restrict the solutions to having free shipping. The solutions that we chose for this article actually have a bit of overlap with those in our 10 Affordable Solutions to Declutter Using Wasted Space; we'll make a note of them when we hit it.
Please note that we may receive a commission for purchases made through links on this site.
8 Affordable Solutions to Declutter Your Kids' Toys (Under $50)
The following are not in order of preference or price; prices tend to fluctuate slightly, and which items are best will depend entirely on your personal situation. Rather than providing some arbitrary ranking, our goal here is simply to introduce you to solutions that could truly help with decluttering your home. While the focus here is on toys and other children's things, we encourage you to think outside of that box! Some of these solutions might have places in a variety of areas of your home, and for uses other than kids' things.
Learning Resources Create-a-Space Storage Center
In 2020 many people started spending more time at home either helping with their children's education or providing that education entirely themselves. With that challenge came new storage challenges–school supplies that normally weren't ever-present at home now were.
This cute, useful solution is designed exactly for that sort of situation! You certainly don't need to be homeschooling to make great use of this, but it sure does help with keeping kids' school items stored in an easy, affordable space. Each of the pie-shaped pieces is easily removed, which means that your kids can take the whole store of, say, pencils with them when they're using them. That gives an easy reminder for them to put things away when they're done. Out of sight, out of mind; right in front, easier to remember!
Delta Children Deluxe Multi-Bin Toy Organizer with Storage Bins
We think that these sorts of light, easy-to-use storage bins are an essential item wherever kids' toys can be found cluttering a floor. Having the bins be light and easily removable means that you can declutter by bringing the bin TO the toys, rather than the other way around. This little bit of efficiency makes it much easier for children to get their things into the bins and shortens cleaning times drastically. As you might know well, the required cleaning after playing is best when it is as short as possible.
Below we will suggest the Honey-Can-Do Kids Toy Organizer which is in the same ballpark as this solution but is smaller and uses hard bins instead of soft ones. Which is best for you will really depend on your situation and aesthetic preferences. Also, this Delta solution is smaller than the one from Honey-Can-Do; if a smaller footprint is better for your space, this would be the better option.
This brand–Delta–has other similar bins, also on Amazon, that we wanted to at least mention. We have no affiliation with Delta, but if you're a fan of Disney, they have many Disney-themed bins that your kids might like.
Simplehouseware Over Door Mount Pocket Organizer​
In case you haven't seen a declutter solution like this before, the way it works is that it uses thin hooks at the top to hang on any door while still allowing the door to close normally. This means that you can fit more in any closet, or fit things behind doors that you always leave open. In many homes that adds up to a whole lot of space! 
We've come across many, many over-door organizers over the years, but this one really checks all of our requirement boxes in a way that others don't. It holds a great deal more than most like it. The pockets are very large and can hold a substantial amount of weight. Others that are specifically for bathroom items, or specifically for shoes, are useless for any other task. This one could easily be used for almost any of those special cases, and more! For the task at hand, it will comfortably hold small stuffies and other toys.
The upper containers will be too high for children to reach, but that just makes it a good place to store things that you want to be handy, but which should be deliberately inaccessible by kids.
We also included this in our 10 Affordable Solutions to Declutter Using Wasted Space.
Alimto Large Play Mat and Toy Storage Organizer Basket
We're guessing that many readers have not seen anything like this before. It is both a container AND a play mat. The mat acts as a lid for the basket. We strongly encourage you to take a look at the photographs of the item on Amazon where they demonstrate how you can simply lift the mat section and have all of the toys slide into the basket–this is a decluttering dream!
Honey-Can-Do Kids Toy Organizer and Storage Bins
We have seen many, many variations of this solution for decluttering children's toys. And that's a good thing. They have served many people very well. This particular solution from Honey-Can-Do is, at the time of writing, at very nearly 5 stars with about 4,000 reviews; that is pretty great.
This is not too different in concept from the Delta Children Deluxe Multi-Bin Toy Organizer we suggested above, and which is best for you will depend on whether you prefer hard or soft bins, which is more aesthetically pleasing to you, and also how much space you want to take up. This Honey-Can-Do solution is larger and will hold more, but the smaller footprint of the Delta solution might be better for your space.
EZOWare Large Linen Fabric Foldable Storage Cubes (3-Pack)
This 3-Pack of storage bins is a great declutter solution for kids' stuff because they're light, not easily damaged, and are easily opened because of the Velcro tabs on the lids. You can fit a whole lot of stuffies in these! We also like this sort of solution for Lego and other blocks because of the lids; open-top storage for small things is always at high risk for being knocked over and creating more clutter!
SONGMICS Set of 3 Toy Storage Boxes
While very similar in concept to the previous suggestion, these storage bins are not only more colorful, they are also a bit more practical for some situations. The colorful front panels actually open up to provide access to the contents. So while they're still light and convenient for kids to use, they can also easily be used as a sort of portable shelving solution. You could stack them in a single place permanently, and have the bonus of a color-code: Lego in the red bin, stuffies in the yellow bin, etc..
Delta Children MySize Kids Convertible Activity Bench
We absolutely adore this declutter solution for kids! It is easily our favorite item on this list. First of all: it's kid-sized. It won't take up a ton of space wherever you usually have your children playing. Second: it's dual-use! The arms and back easily swing down to make a table–kids love things that convert like this! Third: it has not-insignificant storage under the seat. We think that the value of this one is excellent given the level of affordability.
2 Slightly Less Affordable Solutions To Declutter Your Kids' Toys (Under $150)
For this section we've chosen two items that, while more expensive than those above, still meet the brief of being affordable and having free shipping. Storage options tend to be pricey, but a $150 budget really opens up the selection to some interesting new items.
KidKraft Building Bricks Play N Store Table
This very cute little table and brick/block storage is an excellent, and still affordable, solution to the building brick clutter problem. With three different bins in which bricks or blocks can be stored–one in the middle and two underneath–there is plenty of space for those bricks, which do add up. And the footprint can be shrunk by closing the top. As a small bonus, kids often love things that move and convert like this.
UTEX 2-in-1 Kids Multi Activity Table and 2 Chairs Set with Storage
We hope you'll forgive our frequent mentions of bricks and blocks–it's only because we've stepped on so many of them over the years! This table is another solution for where to store them and play with them, similarly to the previously suggested declutter solution. This one is more like a normal table, and may therefore be a bit more versatile as a piece of furniture, depending on your situation. It's a larger surface area than the previous one but provides slightly less storage. Both tables are quite adorable, and we think both are good solutions. We have a slight preference for this one simply due to its versatility in being more like a normal table, and also coming with chairs.
We've suggested 10 very affordable solutions to help declutter your kids' toys. We gave ourselves a max of $50 for the first 8 items and $150 for the last two. $50 can seem limiting, but it's more than enough for many sorts of decluttering situations. There is surprisingly little variety or innovation when it comes to storing kids' toys. We really hope that in the near future some fun, interesting, and affordable solutions come out that we haven't seen before–should that happen we will certainly write a follow-up to this article. We also really hope that you have been able to find value in some of our suggestions!
As an Amazon Associate I earn from qualifying purchases.